Definition: the slipping forward of one vertebra upon another. Incidence is approximately 6% of population. Common in gymnasts, football players, weightlifters.
Spondylolysis is the presence of a bony defect at the pars interarticularis, the space between the superior and inferior facet, and can lead to spondylolysthesis
Etiology (Wiltse classification):
Type I = dysplastic deficiency of superior sacral facet, inferior 5th lumbar facet, or both
Type II = isthmic type, defect in pars interarticularis (types I & II most common)
Type III = degenerative form, mostly L4-5
Type IV = traumatic form
Type V = pathologic form, caused by neoplasm
Signs/Symptoms:
May be asymptomatic
Back pain
Leg pain
Radicular pain, bowel or bladder symptoms rare
Isthmic spondylolisthesis commonly presents between 10-15 years
Extent of slippage may not correlate with pain
L5 slippage on sacrum is most common
Radiographs:
Lateral view shows defect
Oblique view demonstrates "Scottie dog" with "collar" or "broken neck" sign indicating pars defect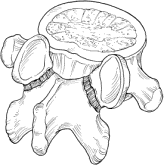 Axial CT image of a 17-year-old demonstrating unilateral spondylolysis with sclerosis of the contralateral pars.
Classification:
Slip angle = measure of lumbosacral kyphosis, helps determine likelihood and presence of progression on younger patients
Meyerding's classification
Grade I = 1-25% slippage
Grade II = 26-50% slippage
Grade III = 51-75% slippage
Grade IV = 76-100% slippage
Treatment:
Grades I and II managed conservatively by restricting aggravating activities, bracing to reduce lumbar lordosis, physical therapy
Grade III & IV slips are at risk for progression, especially in skeletally immature patients, and fusion is recommended
Fusion indications are: demonstrate progression of slip, greater than 50% slip, fail to respond to conservative measure, and skeletal immaturity
Combined spinal decompression and fusion are indicated if neurological findings present (numbness, weakness, bowel or bladder compromise
Pars repair possible in young patients with minimal slip